Yesterday we watched the video POV: Freedom Machines, a film by Jamie Stobie and Janet Cole. Post your reactions, questions, and discussion as comments on this page. Come to class on Thursday prepared to discuss it. I've included pictures of the people in the video to help you remember them.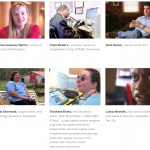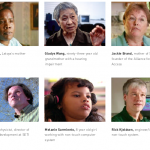 Here are some quotes from the people in the video:
Jackie Brand says " I really think at the core it starts with low expectations. " And she recollects being told to have " realistic expectations. "
Bonita Dearmond describes the outcomes presumed for her education " You could dress yourself and you could keep clothes and you could keep the house and you could manage day-to-day tasks. "
Kent Cullers says " I grew up thinking I could do virtually anything, and of course that's nonsense. You probably don't want me as a brain surgeon. But its a lot better than believing there are things that you should never try. "
Latoya Nesmith recollects an incident on the bus in which a lady said, " How do you stand those people … they should be put in an asylum. "
Susanna Sweeney-Martini says " I am really glad that I was born at the time I was, because I probably wouldn't have gotten the education I had. "
Dean Kamen says " I think almost all change in the human condition is driven by technology. "
Sue Sweeny asks, " Where's the money and why isn't it used here (for the technology the people like her daughter need)?" Sue answers her own question saying that it is because politicians believe that people with disabilities won't vote.
Jackie Brand says " It's a terribly frustrating thing to look at something that you know would change your life so enormously and be so powerful for you and to know it's not to be had because you don't have the resources and the society has not decided that it's important enough for you to have. "
Floyd Stewart says " the majority of people with disabilities live at or below the poverty level and they can't afford most assistive technology. "
Floyd observes, " The system isn't working because the laws are not backed up with the funding to make independence a reality for individuals with disabilities. It's a taxpayer issue. Why pay $65,000 to keep a person in an institution when $25,000 could keep a person at home? "
Latoya says " I know I have to be patient. "