Part1: Six Basic Steps
Analyze Readers
Overview
Explore
Analyze Readers
---
Goals
To identify who is likely to read your document
To rank them
To estimate what they know about your subject and what you need to tell them
To set realistic goals for how much you want to change

their knowledge
their attitude
Rationale
Writing with a clear, strategic sense of your readers is important. There's no easier way to waste your time and your readers' time than by getting wrapped up in your subject and writing for yourself rather than for them. There's no better way to write ineffectively than by talking over their heads, talking down to them, trying to oversell your point, or thinking that information alone will persuade them. To address different readers with different purposes successfully, you need to think about them and then plan your document accordingly.
Making your assumptions explicit is the best way to start. You need to consolidate what you know. To get that information out in the open so that you can see it and turn it into functional knowledge you can actually use.
You always write to a particular reader or group of readers. You never write to a "general" reader. Even if you have no direct knowledge of who will read your document, you still must make assumptions about who they are, what they know, how they will react to what you say.
To help you do this, we'll describe three different products and procedures. The first helps you figure out who all is likely to read your document and to rank them in importance. Almost never is a document read by only one reader or even just a principal group of readers. A memo is passed on to keep others informed. A specification written to guide implementation will also have budget, scheduling, marketing, and other implications and is, thus, likely to be passed to several different groups. You can't control distribution but you can anticipate it and plan for it.
The second procedure will help you get a sense of the limits of your most important readers' knowledge. This will help you decide which words to use, which to explain; what information to assume, what background to provide in context, what outside references to make, or what information to append.
Most documents try to change something -- readers' attitudes, their knowledge of the subject, both, or perhaps some other set of factors. The third procedure will help you decide what kinds of changes you want to accomplish and how large these changes need to be. You're headed for trouble if you try to make an advocate of a reader who only needs to be neutral, or try to make an expert out of a decision maker who only needs to know in general what you are explaining. Consequently, the third procedure will help you clarify your intentions and set realistic goals.
Identify Readers
Product
A chart identifying individuals or groups who are likely to read your document
Procedure
Draw a small circle in the middle of a page and write in it your name (or the name of the team for a group project)
Draw a larger circle around "your" circle
List in that circle the individuals or types of individuals (position or role) that are closest to you in your organization who are likely to read your document

members of your group
your manager
others working on the project

Draw a larger concentric circle and list individuals or types who will read the document but who are further away in the organization

colleagues in your department
your second level manager
others with direct knowledge of the project but not participating

Repeat the process for other readers further away but still in your organization

colleagues in division but without direct knowledge of project
third-level and higher management
readers in other divisions who don't yet know much about the project but may be affected by it

Draw one last circle for readers outside your organization
When finished, go back and rank the readers by importance
Comments
The purpose of the first part of the procedure is to help you systematically think about your known and potential readers. First you array them. Then you rank them.
The product is a "family portrait" of your readers with the most important individuals and groups identified.
One final suggestion: when you write your document, mentally line up your most important readers in front of you on your desk like those miniature plaster busts of Beethoven and Bach. Then keep them in mind as you write to "advise" you about what to say, how to say it, and to help you anticipate probable reactions.





Audience Chart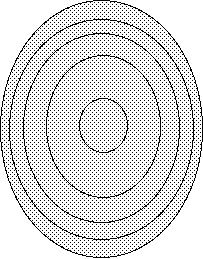 Delimit Their Knowledge
Product
A reader/knowledge matrix showing the limits of your most important readers' knowledge
Procedure
Draw a chart or matrix with 3-4 columns and 15-20 rows
Across the top, list your most important readers, left to right, in order of importance (from the Reader Chart)
Down the left side, list 15-20 key terms or concepts that will be included in your document (from the Explore step)

Think of the information for your document as a visual field, as you did in Explore
Chose terms or concepts, at random, from all over the space

Step back, mentally, and look for patterns

Is one group's knowledge a subset of another's?
Do they overlap and diverge in no apparent pattern?
Comments
The purpose of this procedure is to get a rough but tangible sense of the boundaries of knowledge held by your most important readers. Use this information to plan and present your material -- what to supply, what to reference, what to append, what terms to assume, what terms to explain, how to explain them.
You are once again making your latent knowledge explicit and putting it to use.
Determine Change
Product
Knowledge/Attitude Scale showing starting and ending points for readers' knowledge of material and attitude toward what you propose
Procedure
Draw a horizontal line and a vertical line that cross in the middle

Label the left and right ends of the horizontal line -10 and +10, respectively
Label the bottom and top of the vertical line similarly
Label their intersection, 0

Think of the horizontal line as representing readers' knowledge of the material

+10 means they are experts in the area
0 means they have no specific knowledge but have general knowledge in the area
-10 means they have no background knowledge in the area

Think of the vertical line as representing readers' attitudes toward the material or what you are proposing

+10 means they are strongly in favor
0 means they are neutral
-10 means they are strongly opposed, possibly with a vested interest in some other position

Estimate, roughly, the current knowledge of your most important reader(s)
Estimate, roughly, the current attitude of your most important reader(s)
Record that information as a point on the scale
Estimate, roughly, the final state of knowledge to which your document needs to take your most important reader(s) in order to succeed
Estimate, roughly, the final attitude position you need to achieve for your most important reader(s)
Record that information as a point on the scale
Draw a line between the two points
Repeat the process for each major reader or group of readers
Comments
The purpose of this procedure is to help you make realistic estimates of how much change you really need to make in your readers. Don't over-extend yourself. If you can achieve your goal by persuading a reader to drop his or her opposition, then only try to move that reader to a position that is neutral or slightly positive. If you try to do more, you may end up doing less. That is, you may end up sounding like a cheerleader and turning that reader completely off. Similarly, for knowledge. Recognize when your document should only give a reader a general sense of your subject and when it should provide a detailed analysis, complete technical description, etc.
Look closely at the slopes of the lines. If they are more horizontal than vertical, your primary purpose is to inform. If they are more vertical than horizontal, then your main concern is to persuade. More often than not, your scales will show you that you are trying to do both.
You can use this awareness to help you plan your document. If persuasion is important for your key readers, include sections that point out the benefits of your approach, the rationale behind it, the time it will save. That is, identify what is important to your key readers -- efficiency, time, profits -- and then point out the benefits of your approach in those terms.
If knowledge is most important, your planning task is more straightforward. Just organize your document in a logical fashion that makes the information easy to find and understand. (Step 4 discusses this in more detail.)
If, as with most documents, your purpose is both to persuade and to inform, with varying emphasis for different readers, then mix the two approaches. That is, include brief discussions that explain the rationale behind your suggestions, the benefits, along with the structured presentation of the information. But be sure to use labels and headings that identify each subsection. That way, the reader who only wants to know why can go straight to those sections, read them, and skim the rest. And vice versa for readers mainly interested in what.
Final Comments
You are not likely to use all three of these techniques every time you write. But if you practice them on several documents, you will begin automatically to think about your readers -- who they are, what they know and what they need to be told, and how and by how much you want to change them. Then, when an important task comes along or when you want to explain your strategy to someone, you'll have the tools you need.



Go to: previous section - next section - table of contents


---
e-mail:

urls: