The UNC hiball is an optical tracking device used for medical and virtual environment tracking. We believe it has the largest tracking volume, highest speed and highest resolution of any VR tracking system. We have two tracker areas in operation, one of about 500 sqft. and the other about 100 sqft. Either of these areas can support multiple, simultaneous hiballs. Normally one is mounted to an HMD and another to the object of interest (ultra sound wand, pointer, glove, shotgun, etc…).

Virtual and Augmented Reality Tracking:
In this example, we have mounted one hiball on an HMD and the other on a toy shotgun. This setup was used for a project by Arun Neelamkavil for a skeet shooting simulation for our Exploring Virtual Worlds project class. Some of the pictures of the setup being used are shown here. Another variation of this setup was a series of tests performed by Ben Lok. In his experiments he was using the setup to determine the accuracy of aiming a rifle with the hiball as the tracker.
The results of Ben's experiments showed an accuracy of the rifle mounted hiball to be about twice as accurate as needed for tracking of an M16 / AR15 rifle (+/- 4.6 inches at 100 meters).
With the hiball, our positional accuracy is 0.2mm and rotationally is 0.03 degrees or about +/- 3 inches at 100 meters. All at over 1500 coordinate updates per second.
The Hiball tracker system was designed by a team of engineers in the Microelectronic Systems Laboratory at the Computer Science Department at the University of North Carolina at Chapel Hill.
Current work is the addition of accelerometers and rotational velocity sensors to reduce jitter and allow for a much better inertial tracker hybrid.
The HiBall tracker has been licensed and commercialized from UNC by 3rdTech Inc. where full systems are for available for sale.

Kurtis Keller
UNC
CB 3175 Sitterson
Chapel Hill, NC 27599
(919) 962-1746

Hiball optical tracker system mounted to an HMD & toy Shotgun. Note tracker ceiling tiles.

Hiball optical tracker system, HMD & toy (1/2 scale) Shotgun.

HMD & toy Shotgun.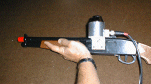 Closeup of mount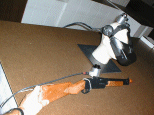 HMD & shotgun with Hiballs mounted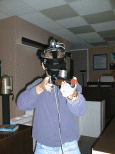 Aiming.

Tracker hiball mounted to weapon system