1969 Corvette Convertible
300HP 380 Ft/lb torque
350 high compression V8
New Updates 2011:
"lil'Red" has been overhauled!  In the past three years, major updates, upgrades and restoration level maintenance has been lovingly put on to my toy of over 20 years.  Short sample is listed below with more details to follow:
Replace all rubber Suspension bushings and parts with Polyurethane
   After 40 years, rubber is done (maybe even a few before that).  To replace, one might as well upgrade too.  Replacing to Polyurethane did not cost too much more, it is the labor that adds up any way and is the same for either.  To begin, the car is put on hoist and then all hanging suspension parts are removed and mounts scraped to allow new polyurethane bushing to replace the old cracked rubber ones.  Then the frame to car body ones isolation mounts are also replaced.  Everything that that was a bushing, a mount anything was replaced with new polyurethane.  While it is apart, replace it.  Additionally, also replaced the steering knuckle coupler for its laminated rubber had turned hard and non-compliant.
   Results:  Handles great again with no more creaking sounds.  Nice and tight.  Steering tight like a sports car should be again.
Power Brakes
   With four disk brakes and four pistons per brake, this upgrade was needed from when this car was initially purchased.  Much greater brake action and improved stopping distance.
Replaced Radiator with new 454 sized radiator
   This is needed for all 350 engines due to the tilted angle of the standard sized radiator did not provide adequate cooling.  One can purchase this radiator with mounting that fit to the 350 radiator original mountings.  Fits in perfect.
Hooker ceramic headers
   Removed lots of weight and the flow restrictions of those right angle cast iron bends are removed.  Probably added 15% to peak horsepower – it really flows well.
Aluminum heads
  Greatly reduced the mass on the engine and helps the head cool significantly better.  Make sure one orders the exact same valve size, cubic inch chamber and straight or angled plug holes to match the original Corvette's exactly.  This will help it maintain similar performance and sound as the high performance stock Corvette engine.  Purists will appreciate this too.  An added benefit is that one can use lower octane fuel without preignition problems as much due to the better cooling aluminum provides.
Aluminum intake manifold
  When replacing heads, might as well replace intake manifold with low weight, aluminum.  New designs also greatly reduce the intake restrictions at peak HP or torque ranges so double benefit – less weight and even more HP.  The upgrade of the headers, aluminum heads and intake manifold reduced weight significantly and appears to have added about 20% more HP.
New Carburetor
  I loved the sound of the old Quadrajet carburetor but it was too worn out for another rebuild.  The new carburetor with electronic choke really made a huge difference on driving – no more waiting 5 minutes before everything finally jived with each other – it just runs smooth at all temperatures and throttle settings.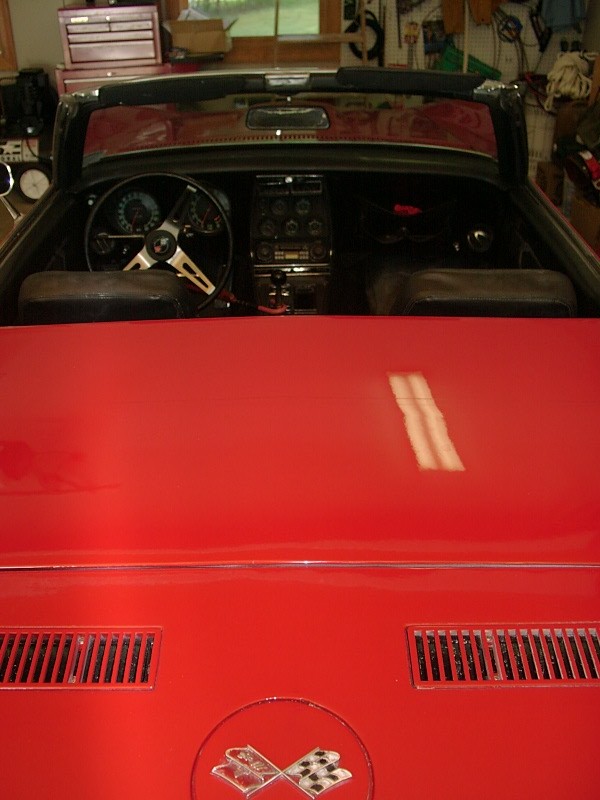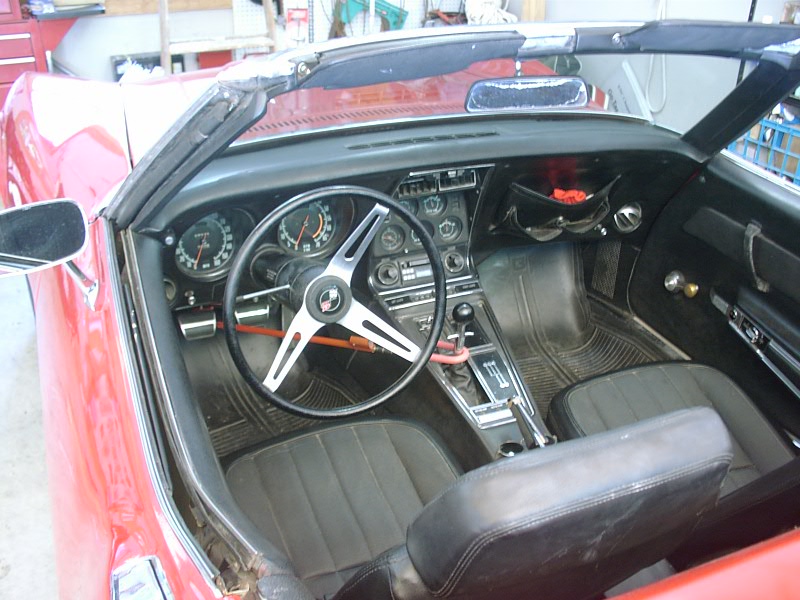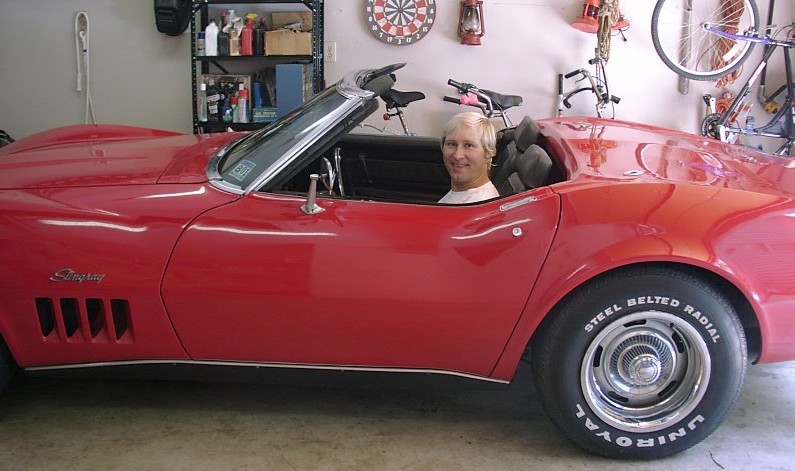 Kurtis Keller sitting in his toy. 1969 Corvette with only 74,000 miles
February 25, 2011, Kurtis Keller