Carnival Destiny
Impressions of the cruise ship during our 8-day honeymoon cruise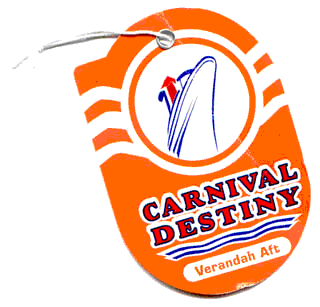 Our cruise ship was launched in 1996. At the time, it was the world's largest cruise ship ever at 105,000 tons and over 860 feet long. It's huge. It carries up to 3000 passengers, and about 30% of the rooms have balconies. The balcony, the destinations, and the fact that Carnival has the youngest average passenger age made us choose this cruise.
One surprise was that it sure rocked a lot for being such a big ship. It was not possible to stand up in the bathroom without bracing against a wall. Walking down the ship's hallways took concentration and some very fancy footwork. At the end of the trip that we learned we were in a tropical depression the whole time, explaining the constant 25 to 35 knot winds and huge swells. No wonder people don't go on cruises as much during hurricane season. Yes, it rained at every island we visited on our honeymoon even the deserts, and yes, that's a seasick-green girl in the pictures!
Because of the tragic September 11th attacks, security on the ship (and at the airports) was much tighter than before. We were not able to get either a bridge tour or an engine room tour. Sooo... We have some pictures of the ship's public rooms and decks.
Here are some pictures of the inside of our cabin. We were on the top deck of rooms only, floor 8. The view was amazing. The shot to the right above is on one of the stairwells. Below is our room.
Above are a few fun pictures of Joni in our room, from the balcony.
Below are are two pictures of a pilot boat leaving the ship at night.
And here is another treat: our steward folded our towels into little animals each night. It was really quite creative. We were so overtaken by the cuteness of it all that we took pictures of them. One night, we had a towel rabbit hop on by, and another night a towel sloth came to hang around.