Curaçao
We were looking forward to Curaçao.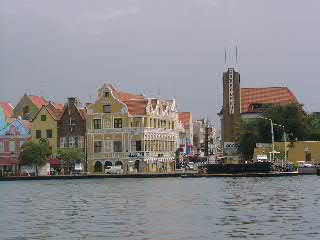 We had seen pictures and read reviews on the main town of Willemstad. The waterfront of Willemstad has the colorful facades of some 200 year old Dutch-influenced buildings. Curaçao is still a Dutch colony, Dutch is still the official language, but English and Spanish are widely spoken - tourism is important. Click the picture above for a virtual movie of the downtown waterfront.
Downtown is actually quite big. We wandered back from the waterfront a good 4 blocks and the entire length and across the other bridges (like Amsterdam). We also went over to "the other side" (Otrobanda) where we found a comfortable bar with a friendly dog who kept us company.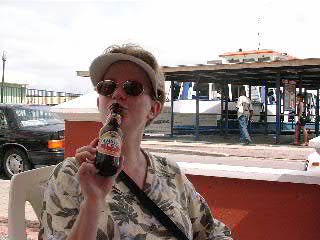 Because Curaçao is basically a desert, the Amstel Beer (not Amstel Light) that they brew there comes in 8.5 ounce bottles with 5% alcohol. Curaçao has to distill all of their water from the ocean so it is quite expensive. Better to make the beer smaller but concentrated!
As our luck had it, we did not find this desert to be quite desert-like. We saw an inch and a half of rain that morning alone! Sooo, we waited for a muggy break. Drainage is not a big thing on a desert island!
We were amused to find a "Time Out" restaurant like one in Chapel Hill, NC with the exact same logo, the hand calling for a basketball time out. The North Carolina Time Out owner didn't know anything about having an outpost on Curaçao...
We saw many unique birds, even downtown, that were quite friendly.
Below is a picture of their famous pedestrian-crossing bridge that spans the ship channel through town. Curaçao has the second largest harbor (it is mostly inland) of the Caribbean islands. No, I don't know the biggest unless they include Havana.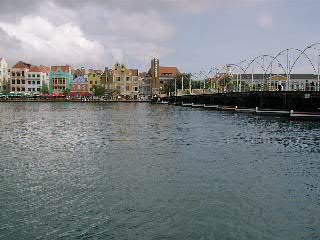 Curaçao also has an Iguana Café like the one we enjoy so much in Key West. We had to have a beer there too.
Below are a couple more pictures of flowers and local landscapes.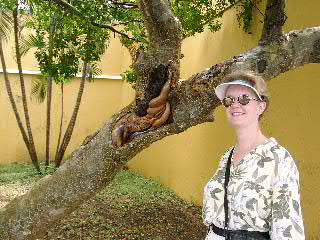 And these pictures below are the views from our cabin the night that we left Curaçao.
And one must not forget the towel in our room shaped like a sloth when we got back!