St. Thomas USVI
St. Thomas was our first real stop on our honeymoon. Unlike the huge city of San Juan, you can walk around St. Thomas all in one day. However, for us, that meant all day in the drizzle. Kurtis bought a new umbrella at the first stand on shore.
People are quite friendly, and the areas we walked are relatively safe. We bought several colorful shirts in addition to a hoard of liquor at the shops. However the ship confiscates the liquor as you board and returns it the last night of the cruise, so they can sell you drinks in their bars. But there are ways around this with all-plastic airline bottles containing mighty good rums...
While walking around town in the rain, we saw the very old Fort Christian, recently restored, and we went in to tour it. It was built in 1671 and is rather interesting for its time. In addition to the views of the front and inside, we have a shot shown at right that looks onto the legislator and government house for St Thomas and the USVI.
These are two images from Fort Christian. The clock tower was an addition about 150 years ago. The picture on the left shows Joni at the entrance. As you can see, it is not a huge fort.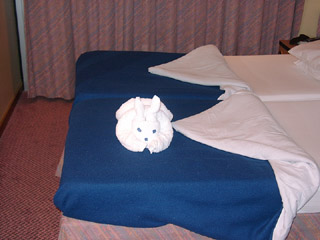 Once we were back on the ship, we were delighted to discover our towels were folded into animal shapes! They were so dang cute that we had to take pictures of them. During the course of the cruise, our steward had five different animals that greeted us as we returned to our room in the evening.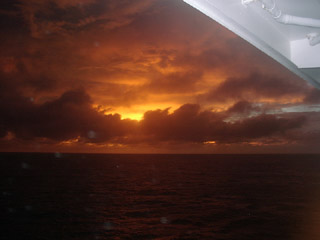 Later that evening as the sun set, we were treated again, this time by an absolutely beautiful sunset over the ocean from our balcony. There are a few speckles of drizzle on the camera lens as you can see. Even though we were 11 floors above the water, the winds were so strong and the waves so big that we were getting spray all the way up there.
Next stop, St Lucia!