Licheng Yu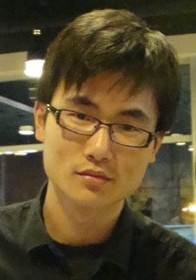 My name is Licheng Yu (虞立成). I am now a 5-th year Ph.D. student at Department of Computer science, University of North Carolina at Chapel Hill. My advisor is Tamara L. Berg. I also work closely with Mohit Bansal. My research interest lies in computer vision and natural language processing.
I completed my Master's degrees from both Georgia Tech and Shanghai Jiaotong University in 2014. I received my bachelor's degree from Shanghai Jiao Tong University.
Email: licheng [at] cs.unc.edu
Office: 201 S. Columbia St., Rm-257, UNC-Chapel Hill, NC 27599-3175
More info: [Resume], [Google Scholar], [LinkedIn], [GitHub].

Work Experience
| | |
| --- | --- |
| | 2019.06—Future : Researcher |
| | 2014.08—2019.05: UNC-CH Research Assistant (Graduated in 2019.05) |
| | 2018.05—2018.08: FAIR Research Intern |
| | 2017.05—2017.08: Adobe Research Intern |
| | 2016.05—2016.08: eBay Research Intern |
| | 2011.09—2013.04: SJTU Research Assistant |
Projects & Publications
TVQA+: Spatio-Temporal Grounding for Video Question Answering

arxiv:1904.11574

Jie Lei, Licheng Yu, Tamara L. Berg, Mohit Bansal


Learning to Navigate Unseen Environments: Back Translation with Environmental Dropout

NAACL 2019

Hao Tan, Licheng Yu, Mohit Bansal


TVQA: Localized Compositional Video Question Answering

EMNLP 2018

Jie Lei, Licheng Yu, Mohit Bansal, Tamara L. Berg


Physics-Inspired Garment Recovery from a Single-View Image

ACM Transactions on Graphics

, 2018

Shan Yang, Tanya Ambert, Zherong Pan, Ke Wang, Licheng Yu, Tamara L. Berg, Ming C. Lin


Hierarchically-Attentive RNN for Album Summarization and Storytelling

EMNLP 2017

Licheng Yu, Mohit Bansal, Tamara L. Berg


Visual Madlibs: Fill-in-the-blank Image Description and Question Answering

ICCV 2015

Licheng Yu, Eunbyung Park, Alexander C. Berg, Tamara L. Berg


Quaternion-based Sparse Representation of Color Image

IEEE International Conference on Multimedia and Expo,

ICME 2013

Licheng Yu, Yi Xu, Hongteng Xu, Hao Zhang


Single Image Super-resolution via Phase Congruency Analysis

IEEE Visual Communications and Image Processing, VCIP 2013

Licheng Yu, Yi Xu, Bo Zhang


[

Paper

] (Oral presentation)

Self-Example Based Super-resolution with Fractal-based Gradient Enhancement

IEEE International Conference on Multimedia and Expo,

ICME workshop 2013

Licheng Yu, Yi Xu, Hongteng Xu


Robust Single Image Super-resolution based on Gradient Enhancement

APSIPA Annual Summit and Conference,

APSIPA 2012

Licheng Yu, Yi Xu, Hongteng Xu, Xiaokang Yang

Miscellaneous
Gobang Android App (AI mode + 2-player mode)

Licheng Yu


Skill Measurement via Egocentric Vision in Wetlab

Licheng Yu, Yin Li, James Rehg