Licheng Yu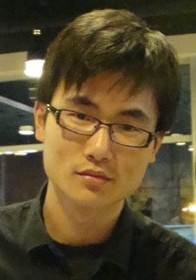 I am now
1st
2nd
3rd
4th year Ph.D. student at Department of Computer science,
University of North Carolina at Chapel Hill
. I received my MS degree from
Georgia Institute of Technology
and BS&MS degrees from
Shanghai Jiao Tong University
.
I'm working with Prof. Tamara Berg and Prof. Mohit Bansal. My current research lies in the intersection between computer vision and natural language processing. I'm also interested in data-driven image processing.
More info: [Resume], [Google Scholar] and [GitHub].
Email: licheng [at] cs.unc.edu
Office: 201 S. Columbia St., Rm-257, UNC-Chapel Hill, NC 27599-3175
News
Summer intern at Adobe Research. (May, 2017)
One paper accepted by EMNLP 2017. (July, 2017)
Congrats! UNC won NCAA Championship 2017!
One paper accepted by CVPR 2017 (spotlight presentation 8.0%). Talk is here. (March, 2017)
One paper accepted by ECCV 2016 (spotlight presentation 4.7%). Talk is here. (July, 2016)
RefCOCO and RefCOCO+ dataset released: Referring Expression Dataset
Summer intern at eBay AI team. (May, 2016)
One paper accepted by ICCV 2015. Many thanks to those helping me. (Oct, 2015)
Visual Madlibs dataset is released. (Aug, 2015)
Code for Quaterion-based Sparse Representation released. (Aug, 2015)
One paper accepted by IEEE Transactions on Image Processing, 2015. (Jan, 2015)
One paper accepted by AAAI 2015. (Nov, 2014)
New journey - join UNC computer vision group. (Aug, 2014)
Publications
Hierarchically-Attentive RNN for Album Summarization and Storytelling

EMNLP 2017

(short papers)

Licheng Yu

, Mohit Bansal, Tamara L. Berg

A Joint Speaker-Listener-Reinforcer Model for Referring Expressions

CVPR 2017 Licheng Yu

, Hao Tan, Mohit Bansal, Tamara L. Berg

Detailed Garment Recovery from a Single-View Image

Techniqual Report

arXiv:1608.01250

Shan Yang, Tanya Ambert, Zherong Pan, Ke Wang,

Licheng Yu

, Tamara L. Berg, Ming C. Lin

Visual Madlibs: Fill-in-the-blank Image Description and Question Answering

ICCV 2015 Licheng Yu

, Eunbyung Park, Alexander C. Berg, Tamara L. Berg

Quaternion-based Sparse Representation of Color Image

IEEE International Conference on Multimedia and Expo,

ICME 2013 Licheng Yu

, Yi Xu, Hongteng Xu, Hao Zhang

Single Image Super-resolution via Phase Congruency Analysis

IEEE Visual Communications and Image Processing, VCIP 2013
Licheng Yu, Yi Xu, Bo Zhang


[

Paper

]

(~Oral presentation)

Self-Example Based Super-resolution with Fractal-based Gradient Enhancement

IEEE International Conference on Multimedia and Expo,

ICME workshop 2013 Licheng Yu

, Yi Xu, Hongteng Xu

Robust Single Image Super-resolution based on Gradient Enhancement

APSIPA Annual Summit and Conference,

APSIPA 2012 Licheng Yu

, Yi Xu, Hongteng Xu, Xiaokang Yang
Miscellaneous
Skill Measurement via Egocentric Vision in Wetlab

Licheng Yu, Yin Li, James Rehg