Design Patterns

Rarely is a significant problem solved by a single class, or a small set of classes. Rather, modern software is a complex interconnected network of objects.
As more OO systems are developed, we have noticed that over and over similar architectures arise. This is not surprising... software solves problems in established domains, and it is reasonable for two different systems that are operating to solve the same problem might have similar internal structure (assuming both are "good" designs).
Researchers have started collecting these abstract, common architectural chunks and are calling them design patterns. A design pattern is a collection of objects (classes) that have the functionality and internconnectivity specific to solving a general problem.
The classes in a design pattern work together to produce the solution.
A pattern serves as a guide for creating a "good" design for a new system.
Varieties of Classes
data managers
responsible for maintaining state information for a computation (a database, for example)

data sinks or sources
generate data (random number generator) does not hold the data, just creates or disposes-of/maniplates it

view or observer classes
display of information (stored in data manager), specialized for some display device or specialized by some rendering techniques

facilitator or helper classes
assist in the execution of some complex task; maintain little or no data of their own; in a card game, we might display a card image on the screen using classes for drawing lines or text; we might manage the deck with a class that does linked lists.
Application Frameworks
Let's draw a distinction between patterns and frameworks. A framework is a set of specific classes that cooperate closely with each other, making a reusable design for solving a general category of problems. A framework is usually discussed as being implemented for a specific platform. MVC as implemented in Smalltalk is a framework. Xtk is a framework; CORBA is a framework; Java Beans is a framework.

A developer customizes a framework to a particular application by subclassing and composing instances of framework classes.

A pattern is more abstract, taking on different specific forms for different platforms. Two different frameworks might both be based on one design pattern.

A pattern is therefore less specalized; a framework is specific to a particular application domain.

Frameworks can be embodied in code, they are concrete. Only examples, instances of a pattern can be embodied in code.

Frameworks are bigger than patterns. They are composed (ideally) from a collection of instances of patterns.

A framework is executable software; a design pattern is captured experience (knowledge?) about software.




Design Patterns
Here are various definitions of patterns:
A pattern is the abstraction from a concrete form which keeps recurring in specific non-arbitrary contexts. (Riehle and Zullighoven)

A pattern is a named nugget of instructive information that captures the essential structure and insight of a successful family of proven solutions to a recurring problem that arises within a certain context and system of forces. (B. Appleton)

A pattern is a named nugget of insight that conveys the essence of a proven solution to a recurring problem within a certain context amidst competing concerns. (B. Appleton)

Dick Gabriel: patterns are not so simple

Each pattern is a 3-part rule, which expresses a relation between [sic] a certain context, a certain system of forces which occurs repeatedly in that context, and a certain software configuration which allows these forces to resolve themselves.

As an element in the world, each pattern is a relationship between a certain context, a certain system of forces which occurs repeatedly in that context, and a certain spatial configuration which allows these forces to resolve themselves.

As an element of language, a pattern is an instruction, which shows how this spatial configuration can be used, over and over again, to resolve the given system of forces, wherever the context makes it relevant.

The pattern is, in short, at the same time a thing, which happens in the world, and the rule which tells us how to create that thing, and when we must create it. It is both a process and a thing; both a description of a thing which is alive, and a description of the process which will generate that thing. (C. Alexander)

I like to relate this definition to dress patterns. I could tell you how to make a dress by specifying the route of a scissors through a piece of cloth in terms of angles and lengths of cut. Or, I could give you a pattern. Reading the specification, you would have no idea what was being built or if you had built the right thing when you were finished. The pattern foreshadows the product: it is the rule for making the thing, but it is also, in many respects, the thing itself. (J. Coplien)

A pattern involves the general description of a recurring solution to a recurring problem, repleat with various goals and constraints. (B. Appleton)

Your text: The design patterns in this book are descriptions of communicating objects and classes that are customized to solve a general design problem in a particular context. (GOF)

A good pattern meets these criteria:
It solves a problem
It is a proven concept
The solution is not obvious
It described a relationship
It has a significant human component
---
The real "art" in using patterns is knowing how to combine them
Intermediary patterns
This general pattern performs a standing in place of service. The pattern consists of a client object, which is interacting with another object, the intermediary. The intermediary is apparently providing some service to the client, but in reality the intermediary is simply acting as an interface to one or more other objects that are servers.

There are several named flavors of pattern intermediary. All share the characteristic that the intermediate is rather lightweight, not doing much complicated computation or data generation. It mainly exists to gather commands and farm them out appropriately to servers that can handle them.
Proxy

In proxy, the intermediary is a transmission agent sending requests along some pathway like a network. The actual servicing of the request is handled by the server at the other end of the network. The intermediary hides the details of network transmission, making the transaction seem simple. In some instances of this pattern, the intermediary might actually manipulate the data in the messages, changing their form or structure. The intermediary can also augment (or filter out) information coming back from the server before passing it to the client.





Facade

Here the intermediary selects from more than one possible server to handle the requests from the client. A network is not necessarily involved. The intermediary acts as a focus and obviates the need for the client (there could be many) to remember the locations and styles of interactions for each worked/server.





Translator (Adapter)

The actual work is done by a single server/worker, but the protocol it uses does not match that used by the client. Intermediary maps names of messages from client to names of messages for the server.





Decorator (Wrapper)

"dynamic subclassing". The intermediary passed traffic from client to server, but then intercepts the return information and embellishes it in some way. It might, for example, add a window frame and sliders to the plain text generated by the server/worker. Decorators can be added at runtime.





Bridge (State)

Intermediary defines the interface for a task but not the specifics of an implementation. It can send requests from the client to several different implementations of the interface, selecting based on performance issues, system conditions, etc.




Traversal patterns
When data values are organized into composite structures you often need to traverse the data structure processes each value is some way. Uses of these patterns vary in the processing task for each node, the form of data in the nodes, the regularity of the data structure, etc.
Visitor

Nodes are all the same (homogeneity). Several different types of visitation might need to happen, though (e.g., in a binary tree you might be printing in some order, or you might be adding a new node). The visitor superclass must understand the data structure, and it will have a virtual method "action". Each visitor class must subclass this and supply the appropriate action.





Interpretor
Superficially similar to visitor, the interpreter pattern involves a data structure where the form is not regular. The nodes might each be different in content, or the linkages among nodes might be unpredictable or variable. Example: abstract syntax tree. Here the action to be performed is encoded in the data structure class rather than the visitor. A Visitor will then bring some input to the data structure, and the data structure will act on it.





Iterator

This pattern solves the problem of visitor that the visitor class must know the structure of the data class. The iterator class knows the data structure and does a traversal. It passed nodes one at a time to the client visitor. The action to be performed in still known to the client/visitor, not to the data or the iterator.




Combining patterns: Model-View-Controller
Often called a paradigm, MVC is a specific arrangement of three varieties of classes for presenting a user interface. Before MVC, user interfaces were built so that the three functions in MVC were mingled and indistinguishable as components of the solution. MVC defines them as recognizable objects, each with well-defined tasks.

Model is a data manager class. It implements the application class, the basic functionality of the system. It might be something like a simulation, a database, an editor, etc.

View is an observer class. It presents some representation of the data in the model.

Controller is a data sink class. It defines the way the user interface reacts to user input.

One nice aspect of the separation in MVC is that different views can be imposed on one model. That way, different users with different needs can have specialized presentations without disturbing the implementation of the model itself.

Similarly, different controllers (with or without multiple views) can be applied to a model. In this way, users in a multi-user system can specify varying levels of local vs. remote processing. For example, in a editor, a user might specify through the controller that information is not transmitted to the model except on ; alternately, each character typed might be transmitted to the model; perhaps information is sent paragraph-by-paragraph... etc.

Some users might prefer pop-up menus for input, others might like command keys, others text-line input. Different controllers can accomodate this heterogenity without changing the underlying application (model) or the presentation (view).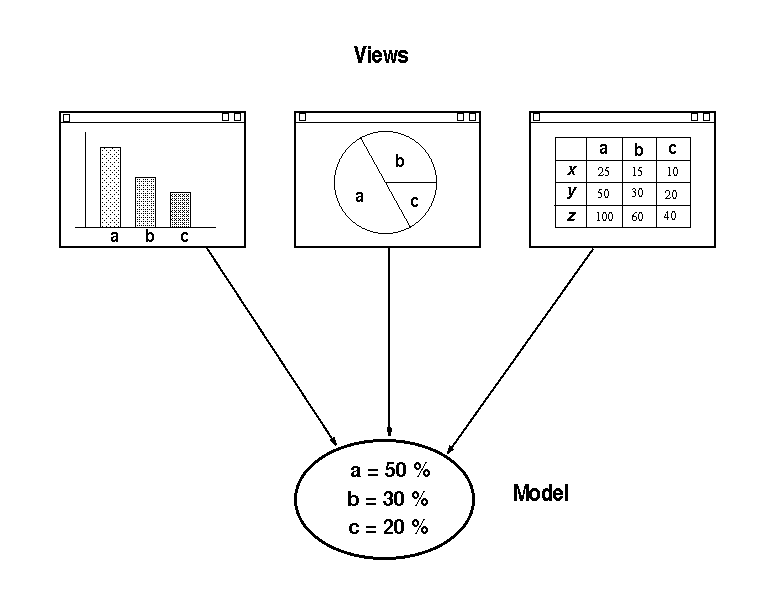 References
"Design Patterns: Elements of Reusable OO Software", Gamma, Helm, Johnson, and Vlissides (Addison-Wesley, 1995).

"An Introduction to Object-Oriented Programming," T. Budd (Addison-Wesley, 1997).