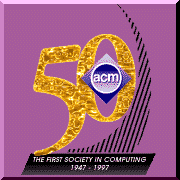 Seventh ACM Conference on Hypertext
Washington DC, USA, March 16-20, 1996

Call for Student Participation
ABOUT THE CONFERENCE
Hypertext '96 is an international research conference on hypertext theory, systems and applications. The ACM Hypertext Conference occurs annually, alternation between locations in the United States and Europe. This conference will interest a broad spectrum of professionals in the fields of computer science, cognitive science, infromation systems, rhetoric and education, as well as many application domains. Participants will include theoreticians, behavioral researchers, systems researchers, technical writers, applications developers and graphics designers. The conference will feature papers, panels, courses, videos, technical briefings, posters and demonstrations.
BENEFITS FOR STUDENT VOLUNTEERS
As a student volunteer you will have numerous opportunities to meet and work with hypertext researchers and professionals. In exchange for the duties described below, you will receive the following benefits at no charge:
remission of conference registration fee
copy of the proceedings
admission to conference events
free attendance to tutorials which haven't sold out
some meals (those provided for attendees)
You must arrange your own transportation and some meals.
STUDENT VOLUNTEER DUTIES
Each volunteer must work 23 hours during the conference, setup, and breakdown. You must report to the conference site early for orientation and training (included in the 23 hours).
FOR MORE INFORMATION
For more information on student volunteering at Hypertext '96, please contact Michael Capps, the Student Volunteer Chair (pref. by email):
Michael Capps
University of North Carolina Computer Science Department
CB #3175, Sitterson Hall 138
Chapel Hill, NC 27599-3175
email: capps@cs.unc.edu
Ofc: (919) 962-1959 --------- Fax: (919) 962-1799