Homesteading in Chatham Co. NC

Building the new house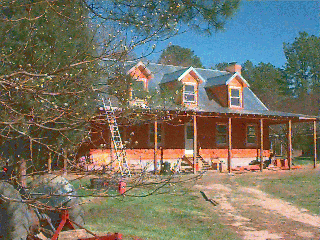 northwest view (3/10/98)

The materials package was delivered October 10, 1996, but construction did not begin for several months. We hired Millenium Woodworking and Restorations (Tim Fulmer) to work with us in building the structure to dry-in stage.

Tim dug and poured the concrete footers for the foundation in early December, and Micky Farrington (brick mason) built the foundation walls two weeks later.




We capped the foundation in 2 days starting Jan 4, 1997, and began to lay the logs on the cap. So far, the crew has been laying logs for probably 8 days. We managed to get the first floor walls up by Jan 23 so we could paint on the wood preservative and make our warranty valid. Of course it has been cold a rainy all the week we have been at the painting, but we have managed to get most of it covered by January 27th.

Laying logs took about two weeks, and then the floor joint beams went in. This took another 2 weeks.

The second story is traditional framing with log siding. The gable ends were built first, and the north wall went up in early March. The ridge went up shortly thereafter, and rafters.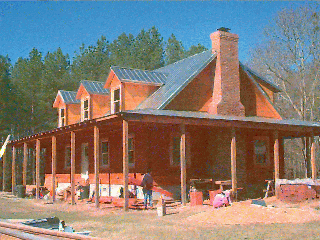 south view (3/10/98)
We are not quite dried in as of 6/16/97, but it is close. Several events have conspired to delay final closure. Mickey Farrington started the chimney in early June after several fals starts. We had to have Southland design a steel flitchplate to bear the stress of the main floor beam. This mod was requested by Al Davis, building insepctor, when he saw that the fireplace cutout was not part of our approved plans. Designing, making, and installing this plate took two weeks.
After completing the chimney we can finalize the main roof and porch and put down the last pieces of tin.
Michael Chandler did the rough in plumbing from June 5 through 12. It was a strange job, as he had to plumb the upstairs bath without walls in place, but he seemed to enjoy the challenge.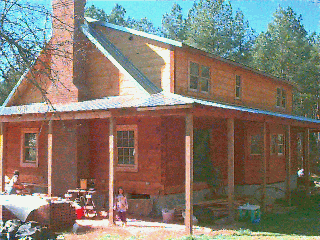 southeast view (3/10/98)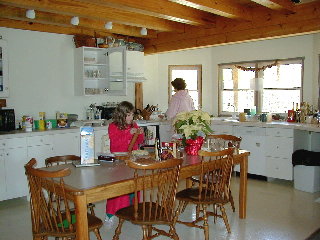 kitchen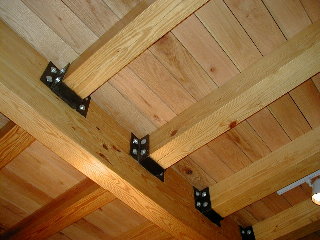 woodwork

---
More photos...
New house, southwest view