Saturday, March 23, 1996, at Tarheel File in Raleigh, NC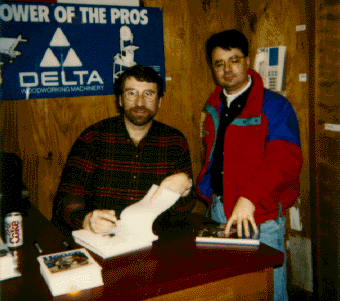 Greg and Norm. Greg appears to be sleeping while Norm autographs copies of two of his books, including his latest, Norm Abram's New House.
Greg and Norm
What a really nice guy. Norm actually spent a few moments talking with people as he was signing books and posing for pictures. Of course if I had his job, I'd be a really nice guy too.

I highly recommend his book, Norm Abram's New House. The book presents the story of the planning and building of their new home (Norm, his wife Laura, and their daughter). The book reads almost as if you were sitting in Norm's new family room, listening to him tell the story. I recommend it (the book that is, unauthorized sitting in Norm's family room might get you in trouble).



---