Chair's Message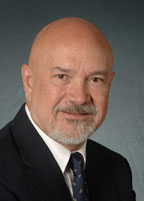 Dear Friends,
Another fall semester is well underway here in the Department of Computer Science. As usual, it has been a busy one so far!
This fall we opened the Entrepreneurs' Lounge in the zero level of Sitterson Hall. The lounge is a place for budding entrepreneurs to hold business meetings and brainstorming sessions and features displays representing the eight CS department spin-off companies. Entrepreneurship has become a hot topic at UNC and elsewhere these days, and the computer science department is an ideal place for the generation of new technologies and the outgrowth of new companies. With the Entrepreneurs' Lounge, we're hoping to help foster the innovation that in part defines us as a department.
Speaking of entrepreneurship, this summer Morphormics, Inc., became the first of the CS spin-offs to be purchased by a publicly traded company. Congratulations to founders Steve Pizer, Ed Chaney, and Sarang Joshi, as well as all of the UNC-affiliated folks who work for Morphormics. You can read more about the deal here.
Congratuations to this year's two alumni fellowship recipients, Chen-Rui Chou and Haohan Li. You can read more about their research here. Your gifts to the department help support the alumni fellowship, and each donation is especially appreciated.
We hope to see you soon in Chapel Hill!