Welcome to the UNC DiRT group's home page!

Forgive our shabby appearance but we're too busy doing cutting edge research to create a sexier home page. Either that or we're too lazy, I forget which.

DiRT stands for DIstributed and Real-Time systems. Our purpose in life is to understand how to better build, you guessed it, distributed real-time systems.

We take as our driving problem that of supporting collaboration among geographically distributed groups of technical professionals. For example we're currently working with a distributed virtual environment research group (the nanoManipulator team) to provide quality-of-service for the real-time flows generated by these applications.

We are investigating technology for realizing differentiated services based on combinations of active router-queue management and packet scheduling. The goal is understand the interplay between the requirements for congestion control and quality-of-service, and the mechanisms used to realize each.

Current research projects include:
Active queue management for multimedia networking
TCP congestion control with GPS synchronized clocks
Traffic measurement and charcterization of the NC GigaPOP
Adaptive, rate-based scheduling
Proportional share resource allocation in real-time operating systems
Tuning RED for web traffic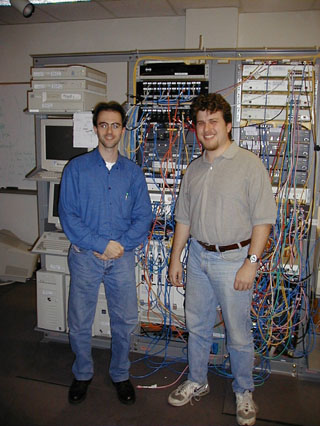 Graduate students ("DiRTsters") Felix Hernandez and Alex Blate.
(See the rest of the DiRTsters in action!)

The soon-to-be-famous people of DiRT are:

Faculty: "Untainted by scandal"


Students:
Projects, publications, and other goodies...
For slightly more useful information on what we actually do and have done in the past, as well as really dull papers we have written, click on one of...

Research Sponsors...
Our research has been supported in parts by:

For Internal Use Only: Notes and documents on the infrastructure shared among the DiRTsters.