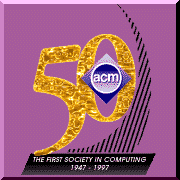 Seventh ACM Conference on Hypertext
Washington DC, USA, March 16-20, 1996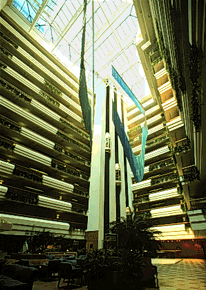 Conference Hotel and Transportation
Hyatt Regency Hotel, Bethesda
The conference hotel is the Hyatt Regency in Bethesda, just over the city line in suburban Maryland. This 5-star hotel is located right above the Bethesda Metro stop, on the Red Line, giving quick, safe, and inexpensive access to all the attractions of Washington.
Address: One Bethesda Metro, Bethesda, Maryland 20814
Reservations: Hyatt at 1-800-233-1234
Telephone: (301) 657-1234
FAX: (301) 657-6453
Number of Rooms: 381
Number of Floors: 11
Meeting Space: 17,000 sq. ft.
Conference room rate is $113 per night (+ tax etc.), single or double occupancy. Be sure to tell the reservations clerk that you are with the Hypertext '96 conference.
The Hyatt Regency Bethesda has a 12-story marble atrium. Located at Bethesda Metro Center, minutes from downtown Washington, DC. There is 16,500 sq. ft. of meeting space for groups of 8 to 800, including the newly renovated Crystal Ballroom providing 7,200 sq. ft. of additional space. There are 19 meeting rooms including 2 boardrooms and a separate level for breakout meetings. Guests will enjoy the rooftop health club with heated pool, sauna, whirlpool and state-of-the-art exercise equipment. The hotel has two restaurants and a lounge. Close to Wang, Oracle, IBM, NIH, FDA, NRC and Bethesda Naval Hospital.
There are 100 restaurants within walking distance of the Hyatt, and the National Institutes of Health are located a long walk north. Several fine shopping districts are just a few subway stops away. The Washington Zoo is a few Metro stops south, and the Smithsonian Institute (and other Mall attractions) are about 30 minutes by Metro.



---
Transportation to Bethesda (MAP)
The Hyatt Regency Bethesda is located right atop the Bethesda stop on the Red Line. This is by far the easiest way to travel locally to and from the conference.
Directions from Dulles Airport
Directions from BWI Airport
Two airports serve the DC area with numerous international flights: Dulles (in suburban Virginia), and Baltimore/Washington International (BWI, in suburban Maryland). Both airports are far out in the suburbs, and neither in on the DC Metro subway system. However, there is a shuttle service from each to the Hyatt hotel, and Amtrak trains will take you from BWI to the DC Metro. The Hyatt is about fifteen miles from Dulles International Airport, and about 20 miles from BWI. Taxis will be expensive from either airport.
Directions from National Airport
A third airport, Washington National, is located right on the DC border in Virginia, and is conveniently located on the DC subway. Many US domestic flights serve Washington National, as well as some international flights.

Amtrak train service from all over the US will leave you at Union Station in downtown DC, or at New Carrollton in the eastern Maryland suburbs. At either place you can transfer to the DC Metro subway system.