Flexible Occlusion Rendering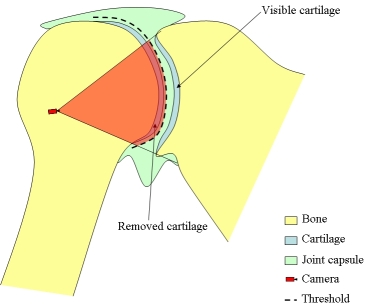 Flexible Occlusion Rendering (FOR) is an addition to standard ray cast volume rendering that modulates accumulated color and opacity along each ray upon detecting features indicating the separation between objects interest. The goal of this work is to enable more rapid and accurate diagnosis of pathology from 3D medical images. Separating the occlusion feature detection from the volume rendering transfer function enables robust occlusion determination and seamless transition from occluded views to non-occluded views of surfaces during virtual flythroughs.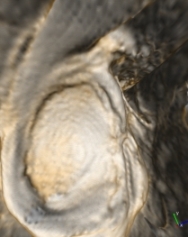 FOR has been applied to virtual arthroscopy of joints from Magnetic Resonance Imaging (MRI) data, such asrendering survey views of entire shoulder socket surfaces to enable rapid evaluation by automatically removing the occluding material of the humeral head. Such views are not possible with standard volume rendering. FOR has also been successfully applied to virtual ureteroscopy of the renal collecting system from Computed Tomography (CT) data, and knee fracture visualization from CT data.
People
FOR was developed at The University of North Carolina at Chapel Hill (UNC) by John P. Clarke of Radiology, Russell M. Taylor II of Computer Science, and David Borland, formerly of Computer Science, currently employed by the Renaissance Computing Institutue. FOR was the subject of David Borland's Ph.D. thesis, completed in May 2007.
Intellectual Property
International Patent Application No. PCT/US2006/009331, Methods, systems, and computer programming products for processing three-dimensional image data to render an image from a viewpoint within or beyond an occluding region of the image data, has been filed by the inventors, encapsulating portions of the FOR framework. A second provisional patent application, Flexible Occlusion Rendering has also been filed, covering the remainder of the full FOR description.
Contact
Those interested in potential licensing of the FOR technology should contact Trude Amick from UNC's Office of Technology Development.