BetheaNotes
Keith's notes on T. Carter Bethea's talk.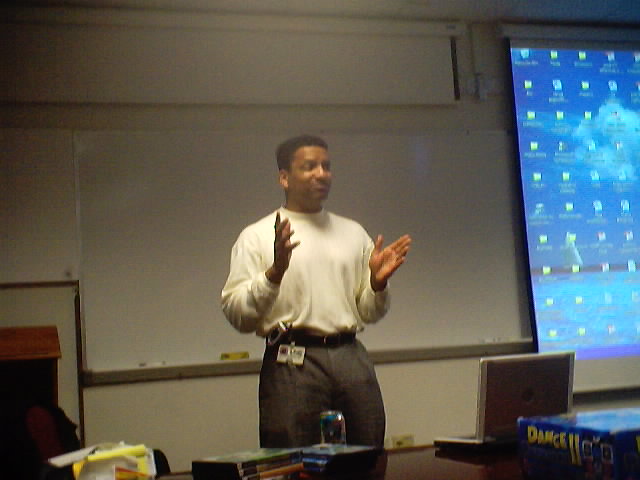 T. Carter Bethea, MD

Clinical Fellow, Division of Child Psychiatry

ASPIRE

Research Program
Schizophrenia, Bipolar, Autism, Obesity, etc.
Some Basics of Psychiatry

Psychiatry: Treatment with Medicine
Psychology: Treatment without Medicine
The medical field is not very good with regular medicine, so in psychiatry the bar is even lower.

Cycling through the best 3–5 treatment meds (one at a time) yields improvements for 75% of the patients
Improvement does not equal cure
There are serious side effects, mainly weight gain

A quarter to a half a kilo is alot for a 30 kilo kid
Essentially double their weight in 6 months
Kids are fat, more likely to get diabetes and glucose increase
Unknown if change is behavioral, chemical or both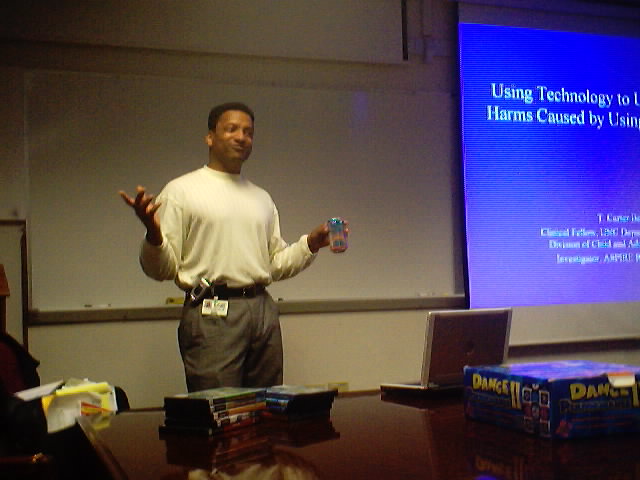 Slides: Using Technology to Undo the Incidental Harms Caused by Using New Technologies

National obesity trends

Normal

BMI

(body mass index): 18–25
Obese

BMI

(non-athletes): > 25
One-fifth of US population is obese (need to lose 20–40 lbs)
Obese is worse than merely overweight (need to lose 10 lbs)

Why the pandemic?

Hypotheses include fast food, tv/video, less xercise, car culture/urban sprawl, erroneous social trends (i.e. parents are scared for kids safety even though schools & streets are actually safer)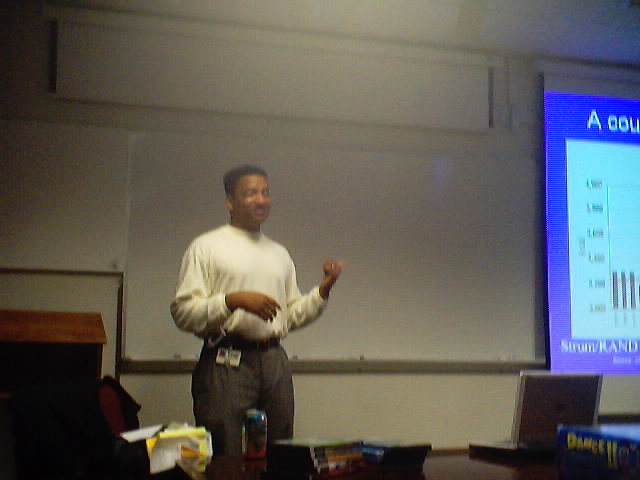 TV Watching Trends

3 yr olds are playing less!
Obesity has increased for 12–17 year olds from 5% in early 980's to 11% in mid 1980's to 16% current day
Similar numbers for 8–12 year olds
Even 2–4 year old are getting obese; only 2 of 30 states had significant number of obese children in 1989, but 28 of those 30 reported obese children in 1999.
Changes are environmental since it affects all ages
If kids are fat when they are young, they are usually still fat when they are 12 years old

TV's competition

TV time is actually down
Reasons are mainly video games, the computer, and taped TV (DVR)
Kids increased calorie intake not offset by parallel exercise increase

Video Game Penetrance, 1999

52% of 2–7 year olds have a console
83% of 8–13 year olds have a console
More consoles options

DDR

(Dance-Dance Revolution)

Easy to learn, hard to master
Good for any social paradigm
Antisocial people can play by themself
Social people can invite the whole neighborhood over to play
Since need TV for

DDR

, not watching TV food commercials
Lesson mode (learn on your own)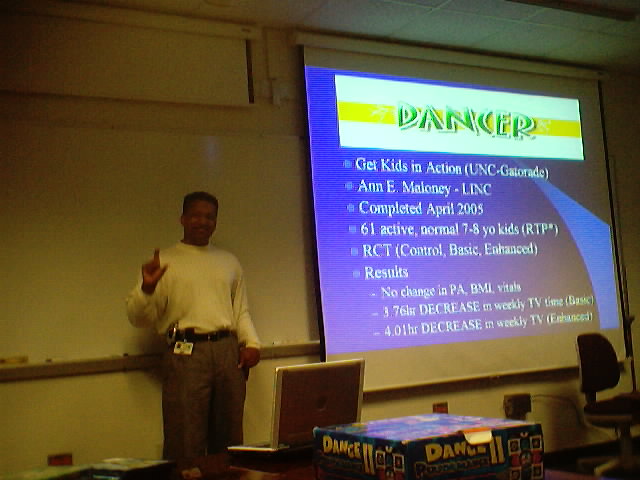 Dancer

Joint program between Dr Maloney of

UNC

and Gatorade
Sixty 7–8 year olds
Randomized Control Trial (RCT)

Control: no

DDR

for ten weeks, intro lesson to

DDR

@ 11th week
Basic: initial lesson to

DDR

@ week 1
Enhanced: physical trainer gives

DDR

lessons every few weeks

No change in PA,

BMI

, vitals

Kids from

RTP

already healthy and active
High income ($85k), high education (college grad) households
Basic group saw TV watching decrease of 3.76 hours/week
Enhanced group saw slightly better TV watching decrease of 4.01 hours/week

Next step: how get low interest kids interested?

Dancer Andrews

After school program & home use of

DDR

Twenty eight 9–11 year olds (2/3 black, 1/3 hispanic)
Naturalistic (as opposed to

RCT

)
No change in PA,

BMI

Improvement in physical fitness test (20 meter shuttle run)

Improvement in fitness precedes weight loss

Used parents to track

DDR

home usage
Look at memory card to see playing times and songs

State Programs

Oregon – In The Groove
Maine – Dr Maloney
West Virginia –

DDR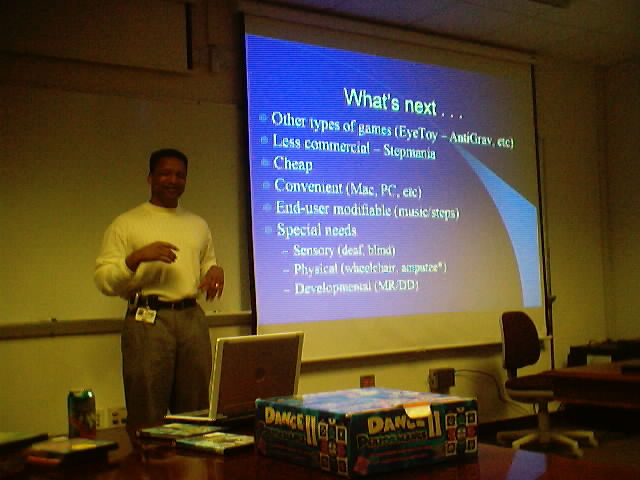 Other Games & What's Next? (Research Ideas)

EyeToy, AntiGrav: commercial games
Stepmania: open source, less commercial
Convenient game: Mac, PC, Linux
End-user modifiable game

Change music & steps
Computer engine generates stepfle for music (less licensing problems)

Special Needs Considerations

Sensory (deaf, blind)
Physical (wheelchair, amputee)
Developmental (MR/DD)

Cotrol difficulty (number of steps, especially for developmental patients)
Change rules; steps can be color or number, not just shape

Pydance

Developed by Brendon Becker in Python
Open-source (code is ugly)
Re-engineerd by Michael Stewart
Win, Mac, Linux compatible game
Team game

Multiple player pads
Best score counts
Don't know who did the best score
Good for competitive and non-competitive players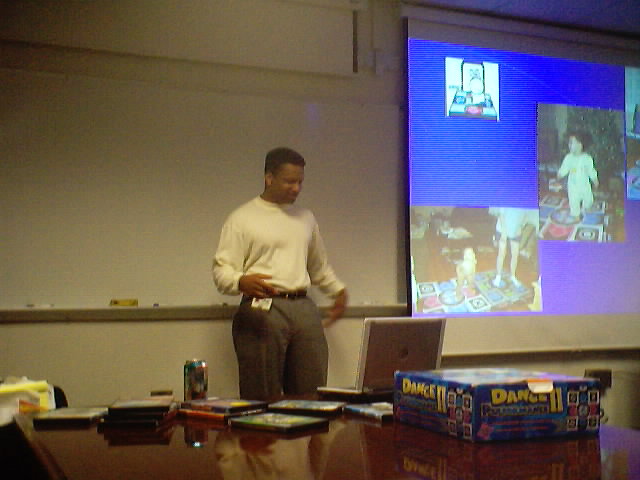 It's never too young to get kids started!