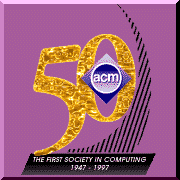 Seventh ACM Conference on Hypertext
Washington DC, USA, March 16-20, 1996

``Docuverse Takes Form...''
In the `70s Ted Nelson coined the term ``docuverse'' to describe a global network of interlinked and personalizable information. Now, two decades later, the docuverse is taking form. Graphics and computing technology now brings inexpensive hypermedia technology to everyone, and the World Wide Web is linking all those everyones together.

Hypertext '96 is the seventh in the premier international series of ACM conferences on hypertext and hypermedia theory, systems, and applications. Originally a fall conference, the annual event has been moved to a spring schedule; locations will continue to alternate between the United States and Europe.
We have enjoyed famous and picturesque settings for past conferences in this series -- Chapel Hill, Pittsburgh, Versailles, San Antonio, Milan, Seattle, Edinburgh -- and we think Washington will extend that record nicely. The city is very well connected for both international and US domestic travel. The conference hotel is the Hyatt Regency in Bethesda, MD,, located right on the DC subway for easy access to the downtown sights as well as the suburbs of Maryland and Virginia.
We certainly hope you will enjoy the conference setting, but the main attraction at Hypertext '96 is the technical program. We will present the latest results in Hypermedia research and development, including WWW technology. Plan now to visit the US national capital for a few days of professional development and collegial interaction.
Timeline
Sat March 16: Workshops and courses
Sun March 17: Courses
Mon March 18: Main conference: Papers, posters, demos
Tue March 19: Main conference: Papers, posters, demos
Wed March 20: Conference adjourns (sessions in morning only)
Digital Libraries '96 will follow Hypertext '96 in the Hyatt hotel starting mid-day Wednesday.



The Engelbart Best Paper Award
At ECHT'94 in Edinburgh, SIGLINK, the ACM's Special Interest Group on Hypertext and Hypermedia, announced the inauguration of a new annual award, the Engelbart Award, for best conference paper. The award is named after Doug Engelbart, in recognition of his life's work and contributions to the field of hypertext and hypermedia. The first presentation of this prestigious award, which carries with it a $1,000 cash prize, will take place at Hypertext '96.



We gratefully acknowledge the support of these organizations:

SIG "Hypertext Systems" of the German Society of Computer Science (GI)
GMD-IPSI: Integrated Publication and Information Systems Institute, German National Research Center for Information Technology

If you don't see what you need...

David Stotts (General Chair)     Catherine Marshall (Program Chair)
Department of Computer Science   Hypermedia Research Lab
University of North Carolina     Department of Computer Science
Chapel Hill, NC 27599-3175       Texas A&M University
stotts@cs.unc.edu                College Station, TX  77843-3112
phone: (919) 962-1833            marshall@bush.cs.tamu.edu
fax:   (919) 962-1799            phone: (409) 845-9980
                                 fax:   (409) 847-8578


---
Full Program at http://www.acm.org/siglink/ht96/homepage.html
---