The Banquet - Bullocks BBQ!
Joni and Kurtis's wedding
October 13th, 2001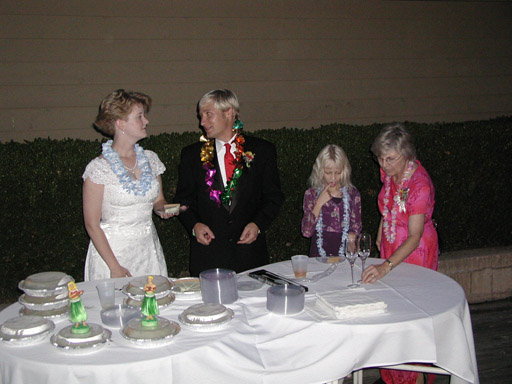 And below is the eating of the wedding pie. Kurtis is not much for cake, and we had a tropical wedding, so what could be better than Key Lime Pies! In the left picture is a hungry Hayley McCraw who was very excited to get the pie cutting going "I want pie!"! No seconds for the bride tonight! And if you are wondering, yes, the background is Key Lime.
The picture to the left has Dave Clemens, Heather Flanagan, Mrs. Garrison, Larry Harrold (back turned), and Anne Dixon. The picture to the right is Alison Naylor, Brandon Perkins, and Cheryl Elia who reserved the clubhouse for us; Tony Hamm and his wife Krystil have backs to the camera.
Below are our hula guy and girl pie toppers. Yes, they have little springs underneath and dance when you touch them! To the right below is Heather Flanagan feeding Anne Dixon.
Heather is licking her fingers of a special pie (avoids her food allergies) while Doug Sweeney is behind the inflatable palm tree. As you may have noted by the table top, there were many beers including a keg of "Carolina Blonde" to match the bride. To the left is our minister, Pastor Garrison sampling the BBQ, hush puppies, corn, green beans, mashed potatoes with gravy, and all the other fixin's.
Now, to get back to the wedding or the party...
For more people pictures...
For more pictures on the location...
For honeymoon island pictures...
("Honeymoon" is divided into separate galleries for each of 6 islands)