Kurtis and Joni Keller's
Wedding Party
Yeah! Kurtis and Joni have just gotten married! It's now time to eat some BBQ, drink some beer and champagne, mingle with friends and family, and enjoy the party.
Here are pictures of lots of our friends and relatives. We were so happy to have everyone come out and celebrate with us. In fact, the party continued until about 1:30 AM, way after Joni and Kurtis left the clubhouse to finish packing for our honeymoon starting way too early the next morning.
Bullocks BBQ catered the wedding dinner (click here for more fun pictures of people eating)! Since it was so warm that evening, we ate outside. To see more pictures, click on the group picture below right or here.
Above is a great picture of maid of honor Jennifer with Larry.
On the right, Joni's special, comfortable wedding sneakers dressed up by Kurtis's mom and his cousin Carol Smith. When Kurtis and Joni were ready to leave, he discovered his 1969 Corvette had been noticed (OK, it was parked at the entrance). So after a little bit of wiping down, the newly weds were off to get ready for their honeymoon. The paint might even recover after a few more waxings!
If you want more, there is another page for pictures from our island hopping honeymoon of San Juan, St. Thomas, St. Lucia, Curaçao, Aruba, and Key West.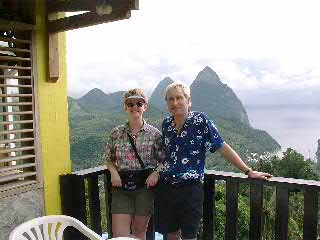 We want to thank our friends and excellent photographers who took way better and more interesting pictures of our wedding than any "professional" photographer. The quality and emotion in the pictures is more than we could have dreamed. Thank you so much Hiawatha Demby, Bennett Crowley, Tyme, Doug Sweeney, and all who grabbed a camera for providing us such wonderful memories. We hope you all were able to spend some time enjoying the friends and food too.
For more people pictures...
For more people pictures with food...
For more wedding pictures...
For more pictures on location, the SunStone Clubhouse...
For honeymoon island pictures...
("Honeymoon" is divided into separate galleries for each of 6 islands)