Brandenburg Receives Distinguished Dissertation Award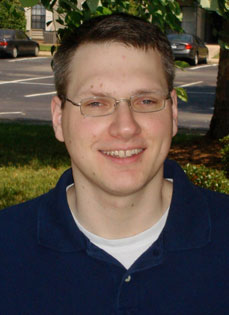 Björn Brandenburg (Ph.D. 2011) is the recipient of the 2012 Linda Dykstra Distinguished Dissertation Award in Mathematics, Physical Sciences and Engineering for his dissertation titled "Scheduling and Locking in Multiprocessor Real-Time Operating Systems," completed under his advisor Jim Anderson. Recipients are nominated for the award, which recognizes the best dissertations at UNC-Chapel Hill in each of four areas: Mathematics, Physical Sciences and Engineering; Social Sciences; Biological and Life Sciences; and Humanities and Fine Arts.
Brandenburg's dissertation makes novel contributions to real-time systems research. Real-time systems are at the core of virtually all modern technologies to control or monitor physical processes. Common examples include cars, some of which now contain more than 100 computers, and medical devices for computer-assisted surgery. It is crucial that real-time systems be subject to stringent time constraints – an airbag must trigger at exactly the right moment in order to be effective, for example. Real-time operating systems (RTOS) are the foundation on which dependable, certifiably correct real-time systems are built. In particular, an RTOS controls the execution of tasks such that isolation is ensured (e.g. a fault in the anti-lock brake controller should not spread to the airbag controller), which requires careful scheduling such that all timing constraints are met and predictable locking such that tasks can access shared resources without incurring unpredictable delays. A recent trend affecting RTOSs is the emergence of cheap, low-power multiprocessors, which can execute several tasks in parallel, but current RTOSs are ill-suited to multiprocessors as hardware parallelism requires fundamentally new designs. In his thesis, Brandenburg examined how practical multiprocessor real-time operating systems can realize scheduling and locking to efficiently ensure isolation.
Brandenburg's dissertation is supported by 23 publications in top journals, conferences and workshops related to real-time systems research. Two of these publications were honored with "best paper" awards. Today, Brandenburg is a tenure-track faculty member and head of the Real-Time Systems Group at the Max Planck Institute for Software Systems.
Brandenburg is the third computer science graduate to receive the award. Brad Davis (Ph.D. 2008) received the 2009 award for his dissertation titled "Medical Image Analysis via Fréchet Means of Diffeomorphisms," under his advisor Sarang Joshi. Liangjun Zhang (Ph.D. 2009) was the recipient of the 2010 award for his dissertation titled "Efficient Motion Planning using Generalized Penetration Depth Computation," under his advisor Dinesh Manocha.