Alumnus to Speak at UNC Doctoral Hooding Ceremony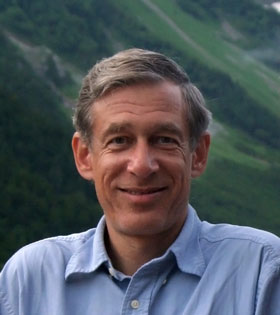 Alumnus Marc Levoy (Ph.D. 1989) will be the keynote speaker at the 2012 UNC Doctoral Hooding Ceremony, to be held at 10 a.m. on Saturday, May 12, in the Dean E. Smith Center.
Levoy is the VMware Founders professor of computer science at Stanford University, with a joint appointment in Stanford's electrical engineering department and his career achievements include developing the cartoon animation system used in "The Flintstones" TV show and launching Google's Street View project. He is also known for helping create the field of computational photography.
He is currently on a two-year, part-time leave of absence to work on another project for Google.
Levoy received bachelor's and master's degrees in architecture from Cornell University. His master's thesis focused on computer-assisted cartoon animation – research he applied later as senior scientist and director of Hanna-Barbera Productions' computer animation department.
He began his doctoral studies in the UNC Department of Computer Science in 1984, focusing on a computer graphics technique called volume rendering. The technique provides 3D depth when displaying computed tomography and magnetic resonance imaging data. After receiving his Ph.D., Levoy spent a year as a research assistant professor in the department before joining the Stanford faculty in 1990.
In his first decade at Stanford, Levoy researched topics including 3D laser scanning. He and his students traveled to Italy to digitally scan the statues of Michelangelo as a part of a yearlong Digital Michelangelo Project.
Levoy's more recent research achievements have included co-designing the Google book scanner and launching Google's Street View project. Levoy's current interests include light fields, optical microscopy and the emerging field of computational photography.