Department News
WELCOME
New Staff
Katie-Rose Repp is proposal and outreach coordinator working with the Research Support and Communications team. She joined the department in March 2011.
Cory Quammen (M.S. 2006) is a senior software engineer working with Marc Niethammer and Russell Taylor in the CISMM group.
Visiting Researchers and Faculty
Jay Aikat (Ph.D. 2010) is a postdoctoral research associate working with Kevin Jeffay.
Adrian Ilie (Ph.D. 2010) is a postdoctoral research associate working with Greg Welch.
Young Jun Kim is a visiting researcher working with Dinesh Manocha and the GAMMA group.
Jungeun Lee is a visiting scholar working with Dinesh Manocha and the GAMMA group.
THANKS AND FAREWELL
Jenni Clark, proposal and outreach coordinator, left the department in July 2010.
Linda Houseman, technical support analyst, left the department in December 2010.
David Marshburn (M.S. 2000), research scientist with the CISMM group, left the department in February 2011.
John Smith, professor, retired from the department in December 2010.
CONGRATULATIONS
Faculty
Dinesh Manocha, Phi Delta Theta/Matthew Mason Distinguished Professor, was named a fellow of the American Association for the Advancement of Science.
Diane Pozefsky (Ph.D. 1979), research professor, was the recipient of the 2010-2011 Computer Science Club Undergraduate Teaching Award.
Marc Niethammer, assistant professor, and Kevin Jeffay, professor, were the recipients of the 2010-2011 Computer Science Student Association awards for excellence in teaching.
Graduate Students
Luis Torres was named the TA of the Year for 2010-2011. Luis is also the recent recipient of an NSF Graduate Research Fellowship. His research is on motion planning for snake-like medical robots, working with Assistant Professor Ron Alterovitz.
December 2010 M.S. recipients:
Camelia Simona Bacanu, Elizabeth Barnes Cavazos, Susu Li, Liang Shan, Chad Samuel Spensky, Jeremy Robert Wang, Xiaoyang Wen, Zhaojun Zhang.
December 2010 Ph.D. recipients:
Jayashree Aikat. An Investigation of the Effects of Synthetic Traffic Generation on Network Performance. Advisor: Kevin Jeffay.
Brian Sanderson Clipp. Multi-Camera Simultaneous Localization and Mapping. Advisors: Marc Pollefeys & Jan-Michael Frahm.
David Yishon Feng. Visualization of Uncertain Multivariate 3D Scalar Fields. Advisor: Russell M. Taylor II.
Adrian Dumitru Ilie. On-Line Control of Active Camera Networks. Advisor: Gregory Welch.
Christian Lauterbach. Interactive Ray Tracing of Massive and Deformable Models. Advisor: Dinesh Manocha.
May 2011 M.S. recipients:
Jason Lamont Carter, Chen-Rui Chou, Jeremy Paul Erickson, Alexander Lee Jackson, Yi-Hung Jen, Anson Yuanxi Liang, Deepika Mahalingam, Ravish Mehra, Robert Griffins Mills, Charles Gabriel Noneman, Chris Selzo, Peter Jacob Stein, Chiung-Yi Tseng, Andrew Maxwell White, Yue-ling Wong, Gu Ye, Jinghe Zhang, Zhaoyu Zhang.
May 2011 Ph.D. recipients:
David Robert Gallup. Efficient 3D Reconstruction of Large-Scale Urban Environments from Street-Level Video. Advisors: Marc Pollefeys & Jan-Michael Frahm.
Xiaoxiao Liu. Shape-correlated Statistical Modeling and Analysis for Respiratory Motion Estimation. Advisor: Stephen Pizer.
Jason Douglas Sewall. Efficient, Scalable Traffic and Compressible Fluid Simulations Using Hyperbolic Models. Advisor: Ming C. Lin.
Changchang Wu. Geometry-driven Feature Detection for Improving Geometric Reconstruction. Advisor: Jan-Michael Frahm.
Undergraduate Students
Stephanie Zolayvar is the recipient of the Stephen F. Weiss Award for Outstanding Achievement in Computer Science for 2011.
August 2010 B.S. recipients:
Reuben Matthew Ayres, William Eric Vogler.
December 2010 B.S. recipients:
Joshua Philip Kon, Caitlyn Mcleod Losee*, Michael Joseph Palmer, Ezra Galen Stuetzel.
May 2011 B.S. recipients:
Michael Abashian, Richard Allred, Max Beckman-Harned*, Eric Boren, Rebecca Brown, Benjamin Hawks, Kristen Janick, Maxmilian Kramer, Mary K. La, Leander Lanzo, Duncan Lewis, Rebecca Lovewell, David Lee Marron, Luke Moffett, Joshua Morton, Nathan Haynes Riddick, Elizabeth E. Sams, Abhishek Sarkar*, Hila Shemer, Michael Sumner, Cameron Swaim*, Zhe Zhang, Margaret Zhou*.
*With Honors
UPCOMING WORKSHOPS
Jasleen Kaur is a co-chair for the 18th IEEE International Workshop on Local and Metropolitan Area Networks (LANMAN 2011), to be held in October in Chapel Hill.
NEW PATENTS
United States Patent 7,822,458
Title: Distal bevel-tip needle control device and algorithm
Inventors: Robert J. Webster, III; Allison M. Okamura, Noah J. Cowan, Gregory Chirikjian, Kenneth Y. Goldberg, Ron Alterovitz
Assignee: The Johns Hopkins University
United States Patent 7,913,007
Title: Systems, Methods, and Computer Readable Media for Preemption in Asynchronous Systems Using Anti-Tokens
Inventors: Montek Singh, Manoj Kumar Ampalam
Assignee: The University of North Carolina, Chapel Hill
RECENT SPONSORED RESEARCH AWARDS
Enabling Next-Generation Multicore Platforms in Embedded Applications, PIs: James Anderson and Sanjoy Baruah. Air Force Research Laboratory.
Interactive Computational Algorithms for Acoustic Simulation in Complex Environments. PI: Dinesh Manocha. Co-PI: Ming Lin. U.S. Army Research Office.
Predictive Modeling for Treatment of Upper Airway Obstruction in Young Children. PIs: Stephanie Davis (Pediatrics, UNC School of Medicine) and Richard Superfine. Co-PI: Russell Taylor. National Institutes of Health.
Ultra-Vis Phase 2A. PI: Jan-Michael Frahm. Subcontract to Applied Research Associates, Inc.
Vision Methods for Open-Universe Datasets. PI: Svetlana Lazebnik. U.S. Dept of the Interior.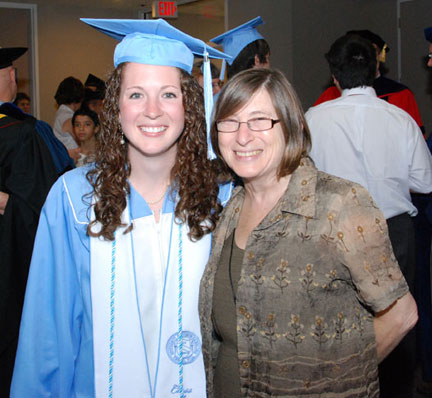 2011 CS graduate Kristen Janick and Research Professor Diane Pozefsky (Ph.D. 1979) pose for a photo at the 2011 CS Commencement reception. Pozefsky received the 2010-2011 Computer Science Club Undergraduate Teaching Award.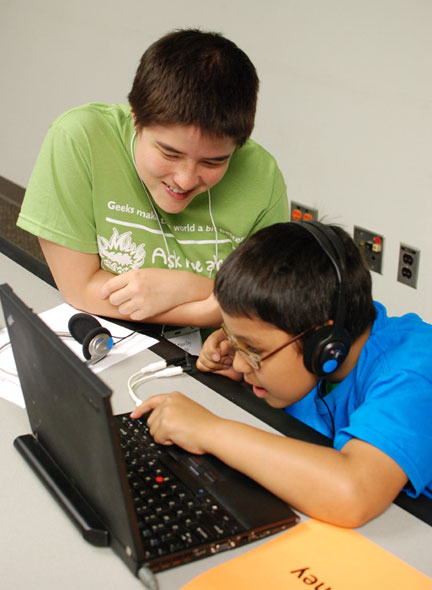 Computer science undergraduate and 2011 Weiss Award recipient Stephanie Zolayvar demos one of her games at Maze Day 2011, an event that brings in blind and visually impaired children from kindergarten through high school to play games created just for them. The event is the brainchild of Professor Gary Bishop (Ph.D. 1984).