Technopreneurship Takes Off at Carolina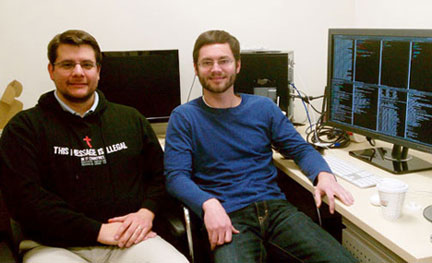 Jeff Terrell (Ph.D. 2009), right, and his business partner, Sir Robert Burbridge, started Altometrics, Inc., in 2010, with help from the Carolina Launch Pad. The company recently received a $150K Small Business Innovation Research Grant from the National Science Foundation.
Information technology startup companies are getting a boost from the Carolina Launch Pad, a UNC-based pre-commercial business accelerator designed to assist early-stage IT startups from the UNC community to develop business plans and working prototypes of their products. Carolina Launch Pad offers entrepreneurial expertise via a partnership between the Renaissance Computing Institute (RENCI), the UNC Office of Technology Development and UNC's Kenan-Flagler Business School.
In addition to business advice, Carolina Launch Pad participants are provided with office space and supplies in the RENCI facility, as well as web site hosting space and web design services. Currently, three UNC Computer Science spin-off companies are benefiting from the services the Launch Pad provides.
Altometrics, Inc.
Jeff Terrell (Ph.D. 2009) and his business partner, Sir Robert Burbridge, started Altometrics, Inc., in 2010. The company is based on Terrell's dissertation research, in which he developed a novel approach to managing the performance of servers within large networks, such as cloud providers, broadly and cheaply.
Terrell and Burbridge are interested in solving a problem most people have experienced: trying to pull up a web page or network server that seems to take forever to load. To deal with this problem, they are developing a technology that will provide companies—especially those in cloud computing environments—with an effective and efficient way to manage the performance of applications that run over networks. Data structures and algorithms created by Altometrics will not only be able to track performance data but will also identify and diagnose server performance issues in cloud infrastructures without straining server resources.
Altometrics, Inc., has already received over $250,000 in private and public capital—including a $150,000 grant from the National Science Foundation as a part of its Small Business Innovation Research (SBIR) program. The company also moved out of the RENCI-supplied office space and into their own space in Durham, N.C. You can find out more at http://altometrics.com.
Rheomics, Inc.
Rheomics Inc. was founded in December 2010 by Rich Superfine, professor of physics and astronomy and adjunct professor of computer science, Russell Taylor (Ph.D. 1994), research professor of computer science, Ricky Spero, a postdoctoral research associate in physics and astronomy, and Suresh Balu, a Kenan-Flagler Business School alumnus and former CS graduate student. The company grew out of the research conducted by the Center for Computer-Integrated Systems for Microscopy and Manipulation (CISMM), an NIH-funded national resource led by Superfine and Taylor, that conducts biophysics research and builds and disseminates bioinstrumentation.
Rheomics is creating diagnostic tools for clotting disorders and cancer metastasis. The company's patented technologies make it possible to pull on blood clots, individual cells, or small particles—the size of a bacterium or smaller—with precise forces. Rheomics sees a market opportunity for this technology in new cancer diagnostics, point-of-care blood clotting analysis, biofluid rheology and lab instruments to advance biological research.
Wavebridge Technology, Inc.
Computer science Ph.D. students Anish Chandak and Lakulish Antani recently started Wavebridge Technology, Inc., with Dinesh Manocha and Ming C. Lin, distinguished professors of computer science. The company is creating software tools for sound synthesis and sound propagation that can be used by artists for generation of realistic sound contents for video games and movies. They can also be integrated directly into games to automatically generate an infinite variety of sound contents at run-time.
Sound is crucial to immersing a user into a video game or movie. Sounds that are repetitive or "don't sound right" break a player's suspension of disbelief. Developers spend a lot of time in content creation: recording common sounds and tuning audio filters to create environmental echo and reverberation effects. This workflow costs time and money and fails to capture the infinite variation in real-world sounds. Chandak hopes that Wavebridge Technology can help bring the latest sound technology to the next generation of video games and sound effects in movies and provide a much richer sound experience for the user. For more information, visit http://www.wavebridge.org.