Thursday, August 28th, 2008
For this assignment I'd like you to experience writing with 2 switches. Go to the Tar Heel Typer page and you should see something like this: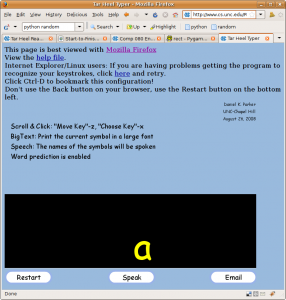 Now you can use the "z" key to move between letters (and words) and the "x" key to choose. Type a short paragraph of about 50 words this way. It will be incredibly frustrating but stick with it. I suggest you imagine pressing the keys is really hard work. Notice also how hard it is to hold in your mind what you want to say with such a cumbersome input method.
When you're done, you can copy and paste what you typed using your mouse. Paste it into a comment on this post. Finally, add your comments about the experience after the text you typed with the switches.
Due: 4 September before class.