Alunmus Receives International Recognition for Dissertation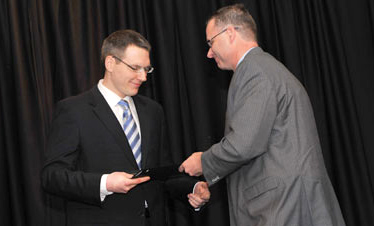 Brandenburg receiving the 2013 Council of Graduate Schools /
Proquest Distinguished Disseration Award.
Recent UNC alumnus Björn B. Brandenburg (Ph.D. 2011) won the Council of Graduate Schools/ProQuest Distinguished Dissertation Award, one of the nation's most prestigious awards for doctoral dissertations, for his work titled Scheduling and Locking in Multiprocessor Real-Time Operating Systems. Brandenburg is only the second UNC graduate to ever receive the CGS/ProQuest Distinguished Dissertation award. This award is given to only two individuals each year who, in the opinion of the award committee, have completed dissertations representing original work that makes an unusually significant contribution to the discipline. Brandenburg's dissertation won overall in a category that includes all of biological sciences, social sciences, mathematics, physical sciences, engineering and computer science.
The European Design and Automation Association Award (EDAA) also awarded Brandenburg with their Outstanding Dissertation Award in the category of New Directions in Embedded System Design and Embedded Software. Brandenburg is the first UNC graduate to ever win this award.
Brandenburg's response to winning these awards was, "Initially, complete disbelief. Also, there's so much great work being done in so many fields, it feels almost unjust to single out any one dissertation. But of course I was quite happy that it happened to be mine."
James Anderson, Professor and Director of Graduate Admissions, served as Brandenburg's doctoral advisor. He was less surprised by Brandenburg's success, especially regarding the award from the embedded systems community.
"Frankly, I would have been surprised if he hadn't won, because I cannot imagine within that field there was a better dissertation that came out at the same time as his."
"Björn's dissertation is a monumental piece of work," said Anderson. "It is filled with novel results that render large portions of existing real-time systems textbooks obsolete. In carrying out his research agenda, Björn was incredibly thorough. His dissertation is over 600 pages, and his experiments resulted in 100,000 graphs of performance data. This degree of thoroughness is so typical of Björn."
Brandenburg's dissertation makes novel contributions to real-time and embedded systems research. Real-time operating systems (RTOS) are the foundation on which dependable, certifiably correct real-time systems are built. In particular, an RTOS controls the execution of tasks such that isolation is ensured (e.g., a fault in the anti-lock brake controller should not spread to the airbag controller), which requires careful scheduling such that all timing constraints are met and predictable locking such that tasks can access shared resources without incurring unpredictable delays. A recent trend affecting RTOSs is the emergence of cheap, low-power multiprocessors, which can execute several tasks in parallel, but current RTOSs are ill-suited to multiprocessors as hardware parallelism requires fundamentally new designs. His dissertation addresses questions key to resource allocation for real-time operating systems (RTOSs), a project that allowed Brandenburg to develop a new multicore RTOS called the Linux Testbed for Multiprocessor Scheduling in Real-Time Systems, or LITMUSRT.
If you are interested in learning more about LITMUSRT or would like to try it, you can visit http://www.litmus-rt.org.
Brandenburg's dissertation produced 23 publications in top journals, conferences, and workshops related to real-time systems research. Two of these publications were honored with "best paper" awards, and he also won the 2012 UNC Dean's Distinguished Dissertation Award.
Currently, Brandenburg is a tenure-track faculty member and head of the Real-Time Systems Group at the Max Planck Institute for Software Systems.
"At MPI-SWS, I'm still looking into multiprocessor real-time operating systems," Brandenburg said. "But now I am increasingly looking from the point of view of OS design and robustness."