Coble Won Catherine G. Perry Award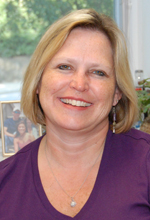 Katrina Coble received the Catherine G. Perry Staff Excellence Award for 2013. The award was established in 2011 and designed to honor a department staff member for excellence in performing his/her job duties.
Coble managed the needs for some 200 faculty, students, and staff in the department of computer science, where she worked for 31 years, including 21 years as administrative manager, before retiring from the department in June 2013.
"She could easily be called the backbone and heart of the department," said Tim Quigg. "Katrina helps keep the department running smoothly day after day and also cares deeply for the people (faculty, staff, and students alike) in the department. Her constant smile and positive attitude along with her tremendous wealth of University knowledge helps her to provide the department faculty, staff and students with sound advice and answers to questions or problems that arise. I heard her tell Gary Bishop that this wasn't just a job for her but a career she chose."
The award comes with an honorarium of $1,000, placement of the honoree's name on the permanent plaque in the Sitterson lobby, and recognition at the annual Department Awards luncheon.