The Founding of the UNC Department of Computer Science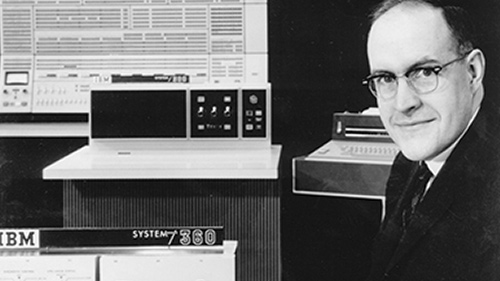 Fred Brooks with IBM 360 computer (Photo courtesy of computerhistory.org)
In 1962, Fred Brooks gave the lecture "Ten Research Problems in Computer Science," which got the faculty thinking about creating a new department. UNC offered Fred Brooks the job of leading their brand new computer science department in 1963.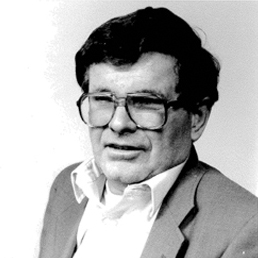 Carl Page (Photo courtesy of Michigan State
Computer Science Department)
Carl Page was the first Assistant Professor in 1965. He held the first tenure-track position after the one that Brooks held. Due to severe allergies, Page left UNC after his first year. Fred Brooks helped him secure a new position at Michigan State University, where he spent the rest of his career.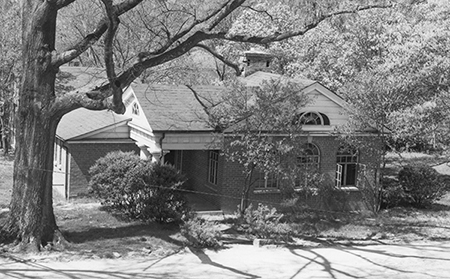 West House (Photo courtesy of the North Carolina Collection, UNC-Chapel Hill)
The department originally set up shop in West House, where it occupied all but the main front room.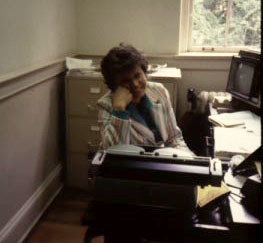 Lib Moore in the New West headquarters in 1980 (Photo courtesy of
Mike Pique, © Department of Computer Science, UNC-Chapel Hill)
Sara Elizabeth "Lib" Moore worked in the department as the first secretary. She stayed in the department for 16 years before moving to another position.
The Master's Degree program was established in 1965. The first two students to graduate with a Master's in Computer Science from UNC were Gail Woodward in 1966 and Hung-Ching Tao in 1967.
Paul Oliver was the first person to receive a Ph.D. in Computer Science from UNC. Oliver served as the Computer Center Director, 1968-1970. After leaving UNC he went on to hold several academic appointments and worked many years as a consultant for Booz Allen Hamilton.
Early research was supported chiefly by grants from IBM and the Atomic Engergy Commission.