---
Last update: Jan 22, 2021 by prins@cs.unc.edu
---
---
Overview
This upper-level undergraduate class (also available for graduate credit) extends and integrates material from prerequisite courses to build a compiler for a non-trivial subset of the Java programming language. Java is also the implementation language for the compiler. Upon completion of this course, you should:
Understand the theory and practice of compilers, linkers, debuggers, and program execution by hardware or abstract machines.
Appreciate the effect of trade-offs in programming language design and computer architecture on program compilation and the run-time support system.
Have gained additional experience with the design and implementation of a large and complex program using Java.
Be prepared for advanced study in programming languages and optimizing compilers.
Announcements
We will use Piazza for offline discussions. You should have received an invitation via email to join our Piazza site: https://piazza.com/unc/spring2021/comp520/home
Written assignment WA1 should be submitted using gradescope. Additional information will follow. The deadline is extended to Thursday Jan 21 at 11 PM.
Reading Assignments
(for Thu Jan 21) PLPJ Skim Chapter 1 - Introduction (pp 1 - 25).
(for Tue Jan 26) PLPJ Skim PLPJ Chapter 3 (pp 55 – 70). Study PLPJ Chapter 4 Secns 4.1, 4.2 (pp 73 – 83).
Written Assignments
Programming Assignments
(For Mon Feb 8) PA1 - syntactic analysis
Lecture Slides
Lecture Recordings
Course Syllabus
Administrative details, such as prerequisites, exam dates, honor code, and the sequence of topics covered in the course can be found in the course syllabus
Text
Programming Language Processors in Java: Compilers and Interpreters, by David Watt and Deryck Brown, Prentice Hall, 2000 (ISBN 0-130-25786-9).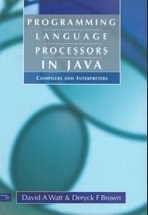 Watt & Brown, Programming Language Processors in Java

---
This page is maintained by prins@cs.unc.edu. Send mail if you find problems.